First Boomerang Original Series produced for Latin America
Season 2 already in English, Spanish and Portuguese
Created by Mariana Caltabiano the show was launched by Turner in all Latin American countries on Cartoon Network, Boomerang and Tooncast in 2018. Zuzubaland is also on SBT (the second biggest Brazilian free tv) and YouTube in Brazil. In less than a year Mariana Caltabiano Criações, hit 117 million views, 465.000 subscribers and won a Youtube Silver plate.
On Facebook Zuzubaland has 155.000 followers and on Instagram it's growing rapidly with a weekly raffle of licensed products.

Zuzubaland is one of the 5 most watched cartoons on NOW, the biggest Brazilian VOD operator. Season 2 is already available with a total of 52x7 episodes in English, Spanish and Portuguese.

The story is about a kingdom where everything is made of food. The neighborhoods are made of fruits, candies, vegetables, sushi, cheese and other delicious treats. The main character is a bee called Zuzu, who dreams of being a famous singer even though she has a terrible voice. The Grannies are magic cooks that protect their land.

A Witch who hates food lives close to the kingdom. She wants to destroy Zuzubaland to stop it from growing and invading her land. Zuzu and her friends King Appetite, Sundae, Marsha Mallow, Popcorn and Rocky Cocoa have the mission to prevent the Witch's evil plans.
Visit the producer and creator Mariana Caltabiano at
Booth E266
Contact:
mariana@mcaltabiano.com.br

Licensing and News
Targeting kids from 4 to 8 years of age, Zuzubaland licensing program has already started in Brazil in key categories, such as the food industry. Baldoni produced a complete line of honey in 2018 starring the most famous bee on TV. Riclan launched Zuzu's jellybeans in 2019.

Also in 2019 Estrela and Samba Toys made a full line of vinyl and plush dolls, games, puzzles and plastic injected toys. The internationally recognized brand Tupperware created a special Zuzubaland line, with bowls, sippy cups and snack boxes. On the publishing and digital content end, Matrix Editora launched "Create Stories with Zuzubaland" and Google featured Zuzu as the main attraction of Tell Me a Story, both in the same year. We also have toothbrushes by Climaco and a back-to school line which will be launched by Luxcel in early 2021, with a set of backpacks, lunch boxes and pencil cases for boys and girls.

Zuzubaland was a hit at Comic Con Experience (CCXP2019) in Brazil with a record public of 280.000 people.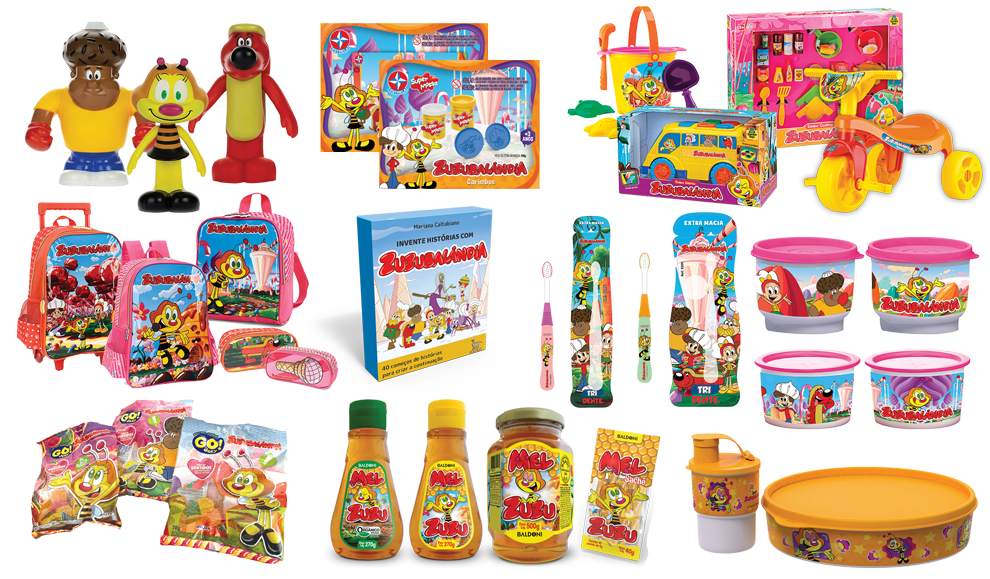 Visit the producer and creator Mariana Caltabiano at Booth E266